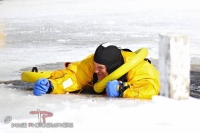 Bayport Fire Department Engine Company 1 will host the LifeGuard Systems Surface Ice Rescue Technician Level 1 & Level 2classes in 2018. As in the past, these classes fill up quickly. Level I will be held on Saturday and Sunday (January 27 & January 28, 2018) from 8am to approximately 5pm (3pm on Sun). 
Level I
This class will teach your members to safely and rapidly rescue a victim, write SOP's that protect the members and department from liability, properly handle patients to prevent further injury and increase survival chances, and many other techniques that need to be used to greatly increase the odds of a successful rescue and the safety of the rescuers. No prior experience is necessary and Certifications for either full Surface Ice Rescue Technician or Operations Level is available. Added to the class again this year for all students is a specific EMS session addressing patient handling, cold water emergencies and patient care. A reduced cost, 4 hour session is available for EMS personnel who do not want to take the full Ice Rescue class but want to learn about the medical concerns and procedures. They will also be introduced to the operations and made aware of the procedures for Tenders and Ice Rescue Technicians however no on ice or hands on training will be conducted. See the attached outline for some of the questions which will be answered during this part of the class.    
To guarantee your space in this upcoming class please complete the following form and send it back to us as soon as possible.   Since the instructor to student ratio is scheduled prior to the class, walk in enrollments will not be permitted on the day of the class unless the student is an additional or substitute student of an already enrolled group.  
Disclaimer:
Balance is due at the beginning of the class on Saturday and will be due and payable whether or not you attend or complete the class. The only exception to this may be made at the discretion of Bayport FD Engine Company 1 and may be made if we are able to replace you with another student prior to the class. If no payment or deposit is received and a reservation is requested and not cancelled at least 48hrs prior to the beginning of the class, full payment will be due whether or not the student attends the class or any portion of the class. Payment along with this reservation form by voucher, PO Order or check will guarantee your position in the class
EMS Specific Objectives:
Drowning: patient handling
Explain cold shock and cold stress in terms of patients and rescuers.
Explain the hypothermia curve and how we can use its information to prevent rescuer hypothermia and cold stress.
Describe the process and function of shivering and explain the problems of shivering in the water.
Explain the difference between heat loss in air and in water.
Explain the process of vasoconstriction due to cold, and describe the functions and problems caused by this vasoconstriction.
Explain how cold stress and hypothermia can result in hypovolemia.
Define cold and immersion diuresis.
Explain why rescuers working in the water or ice, should have their pulse and blood pressure checked before and after the rescue. What should be done with this information.
Explain why hypertension and asthma are contraindications for in water/ice rescue jobs.
Explain why rescuers should splash their face with water or "kiss the water Hello" before performing the rescue.
Describe at least three major causes of drowning in the U.S. for both adults and children.
Define near, long term and cold water drowning.
Describe traumatic, dry and wet drowning in terms of mechanism and physiological process.
Explain what happens to an accidental cold water immersion victim in terms of respiratory minute and blood pressure changes, end tidal carbon dioxide partial pressure, gasping and aspiration, cold induced diuresis, hypothermia, metabolism, the cardiovascular system, and drowning.
Define laryngospasm with its function as it relates to drowning and near drowning.
Explain the difference between dry and wet drowning.
Explain how foam is formed in a drowning victim airway, and why it sometimes is mixed with blood.
Describe the immersion hypothermia reflex.
Explain why patients must be handled exceedingly gently to prevent ventricular fibrillation.
List four problems with administering intravenous medications to a long term drowning victim.
Explain the pros and cons of administering ALS pre hospital care instead of BLS
The Bayport Fire Department Headquarters is located at 251 Snedecor Avenue, Bayport NY 11705.
Parking is available to the rear of the Firehouse.  Please use caution as this is an active fire department.  Do not park your vehicle in the front of the firehouse or block any entrances/exits or create any hazard where you may interfere with responding emergency personnel and emergency vehicles. 
Bayport Fire Department Park:
The Bayport Fire Department Park is located adjacent to the Main Fire headquarters.  People attending events at the Department Park should park their vehicles on Joseph Farrell Way (the road adjacent to the firehouse) unless otherwise directed.  Please use caution as this road is used for responding emergency personnel and emergency vehicles. 
Please note:  During Big Buck$, only handicap parking is available on the property. All others will be directed to park offsite by our fire police.